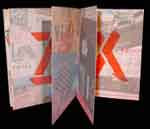 W2LZX
Ed.; 7 3/8" x 5 3/8" - In Progress
Letterpress & digital: Images digitally printed on Johannot papers with archival chromatic inks on an Epson Stylus 2200, with pochoir; Text letterpress printed; Metal covers

A memorial tribute, the call letters W-2-L-Z-X belonged to the artist's Uncle, a ham radio operator for over 60 years. He was a radio operator aboard a B-17 bomber in WWII and a pioneer in early communications. "W2LZX" is composed of nostalgic photographs and collaged QSL cards, logged by ham radio operators. From Morse Code transmissions to computer electronics, ham radio operators have made significant contributions to international and mass communications. The stories of W2LZX and others like him resonate culturally, historically, and personally.